Ok, let's get right into "Basketball Wives: La." This show is a MESS! A hot, flaming, scorching mess!The show has 6 cast members: Draya, Brittish, Sundy, Brandi, Malaysia, and Jackie.
There is so much going on with each member, at least it seems. Yet, I just want to focus on Draya, Sundy, and Jackie for the most part. Y'all would be reading all day if I went into details about each one of them. #Nobodyhastimeforthat
Brittish (yes, that is her name of the show), Jackie Christie, and Sundy (yes, that is also her name on the show) have been doing interviews everywhere. Apparently this is like  a basketball game: 3 on 3, because on the other "#team," you have Draya, Malaysia, and Brandi. These 3 above, are BEYOND MESSY. Beyond.
Brittish gets mad over the stupidest stuff, it's like she just has to say something to remind you that she is there. Sundy…… I will get into her later, and Jackie Christie is the oldest out of everyone, and she acts like she is in high school. She is always starting stuff and manipulating situations.
Malaysia Pargo is such a beautiful girl. I really like her spirit, and I feel like she is honest, stands up for what she believes, and she knows how to be a friend. She has really helped Draya during her time of maturity over the period of the show.
Malaysia is married to Jannero Pargo, but apparently (well, according to their Instagram pages) something has soiled their marriage, and I'm not sure how their relationship will turn out. Malaysia's younger brother also died on New Year's Eve, so she has been dealing with a lot. Hopefully, whatever their issues are, they can work them out because they are a beautiful family.
Check this out:
Malaysia commented on Jannero's post very nonchalantly! Then screencapped the whole thing and reposted along with the caption "Welp cleaning house… who's next?" She later deleted the post but not before putting it all out there!
I hope they resolve their issues. I know on one episode of Basketball Wives, Malaysia and Brandi both admitted that their spouses cheated on them, which in turn, made Draya break down and cry.
Speaking of Draya..
Draya Michele is hard at work to brand herself as more than just a basketball "wife" and VH1 cast-member. The model and clothing designer has been hustling to relaunch her 'Fine Girls' clothing for the Fall/Winter, posing it up as a Rocawear model and of course, endorsing Ciroc liquors.
In between last season, and Basketball Wives: La season 3, Draya met someone.
Draya met (and fell in love with) Orlando Scandrick, of the Dallas Cowboys, and his twin daughters. Within six months of them dating, Draya, along with her son, moved into Orlando Scandrick's La home.
Check out Orlando and Draya's home below, nice digs.
The house is GORGEOUS. I thought they would have spent way more than $2.1 million. The design of the home is amazing.
Price:

$2,850,000

Category:

House for Sale

Bed:

4

Bath:

4

Listed in:

2013

Home Size:

3353 sqft
The contemporary house, built in 2009, features retractable walls of glass and a top-floor master bedroom with a dressing area and bathroom. Outdoor amenities include a sunken spa. There are city and canyon views. He bought the house for $2.1 million in January 2012, as seen on the Bravo TV show "Million Dollar Listing" a few months later, shortly after getting a big contract extension from the Cowboys. Standing eight miles northwest of downtown Los Angeles, it's a relatively new house, built in 2009, covering 3,353 square feet in the Hollywood Hills, with 4 bedrooms and 4 bathrooms. So, basically, he is profiting $750,000 for the sale of the home. Not bad.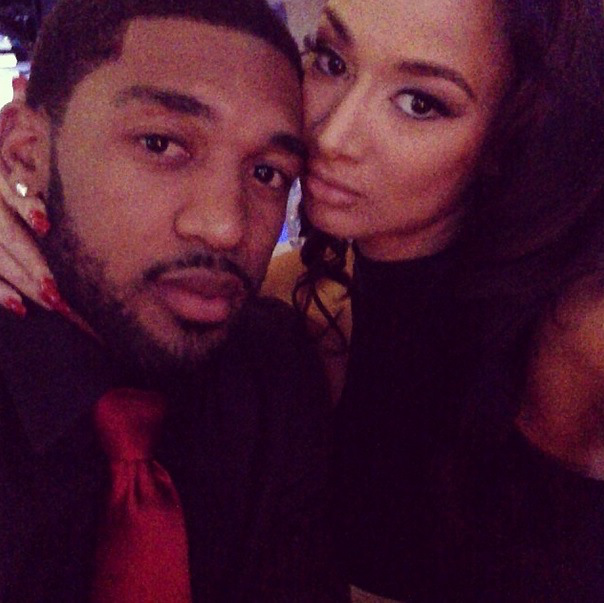 So how does Jackie Christie come into play?
After the Basketball Wives LA season 3 teaser dropped with Jackie Christie telling Draya Michele that her boyfriend, Dallas Cowboy Orlando Scandrick, was also dating Jackie's daughter Chantel (initially).
If you saw Basketball Wives: LA last night (March 3) than you saw Jackie Christie's daughter Chantel reveal to her mom that she was at one point dating NFL player Orlando Scandrick. That however wasn't the shocker though, the bomb drop was that it was during the same time that Jackie's cast mate and frenemy Draya Michele was dating him.
Jackie later confronted Draya to deliver the shocking news (WHILE SITTING NEXT TO SUNDY) to Draya while Orlando were still dating at the time and had just celebrated their 6 month anniversary.#jackieismessy
If Jackie was REALLY Draya's friend, she would have told her in private, and she wouldn't have told Sundy first. That was so wrong of Jackie. Like for real.
Well as fans watched, some of the cast was live tweeting as the show aired including Chantel who dropped another bomb on Twitter revealing that the fact that Orlando was a cheater according to her wasn't the only reason she stopped talking to him. Peep below!!
Draya was referring to Jackie Christie talking to her (about Orland0) in front of Sundy. Chantel Christie, Jackie's daughter and  Orlando's alleged former boo (who also has a dysfunctional relationship with her mother Jackie), chimed in.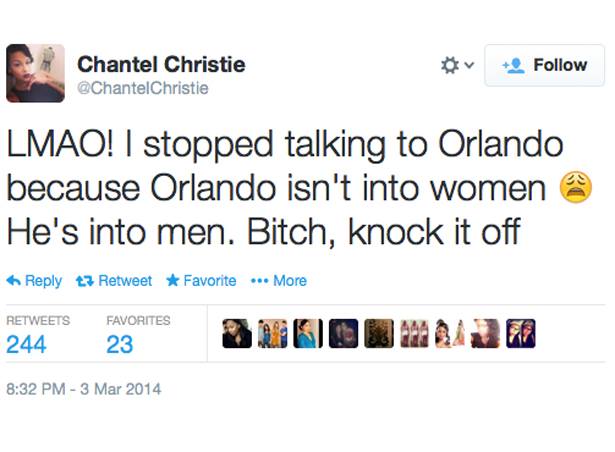 Now, if you ask me, from the pictures posted, they make a beautiful couple, don't they? Well, people hate to see you happy, because people started coming for Draya and her relationship with Orlando, as of lately.
Check this out:
Then, on Instagram, someone posted an alleged conversation between them and Orlando, with him pretty much begging to see her. We don't know if that is him, though.
So, for the record, you can no longer find this Instagram "name" on IG. So… what was the point of that? You wanted to be messy, or nah?
When people found out about Orlando and Draya, some of Twitter went in on their relationship, really, for no reason at all.
Despite the alleged cheating (which I hope isn't happening), I actually like them as a couple. Draya has matured and carried herself more like a lady now that they are together.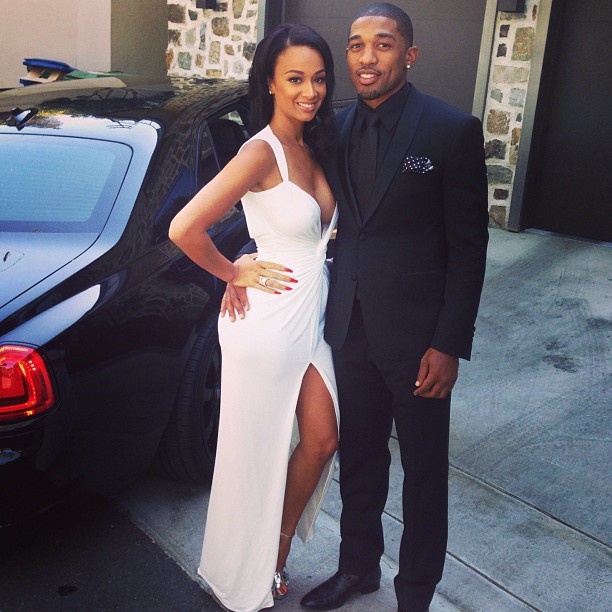 Orlando has twins from a previous relationship, and even though he and Draya have been together less than a year, Draya and Orlando are already like  a little family.
They go to Orlando's games, they go on dates, she takes his daughters to school. She is 100% committed to this relationship, well at least that is what she said on the show.
They have been a multiple charity events together, and she sits with the Dallas Cowboys' football wives in their selected sections at the games.
So, why all the hate? First off, I like Draya. She has an interesting past, that a lot of women can relate to, and for whatever reason, people love to hate this woman. I don't get it. I didn't grow up the way she did, but honestly, I'm #teamdraya. I want to see her "win."
So, how did Draya, and Sundy end up in a fight with Draya giving her a black eye? First, let's get into who Sundy Carter is.
"Actress" Sundy Carter ("State Property" "Next Day Air" and "Boss'n Up") received the Worst Mother Ever in Life award after a photo of her 16-year-old daughter performing a sex act popped up on Sundy's Twitter timeline in the middle of a heated online battle between Sundy and the angry teen! Deja Carter on Twitter performing fellacio, was the photo that was uploaded. Now why would any mother on Earth expose her underage daughter in such an act? Here is what Sundy had to say:
Then the picture was posted. I refuse to repost a 16-year-old, that is still child pornography, edited or not.
Sundy later tried to defend her actions with these follow up tweets:
Only to clap back with a lie about her "page getting hacked" GIRL BYE! You are officially WACK! In my book. Stop the madness!
So, Sundy posted a pic of her underage daughter, #gross, even though she denied it, when you read what she tweets, you can tell she is dirty. I really don't care for this woman. She is TOO OLD to act the way that she does.
Before I get to what sparked the fight, this will give you an insight:
The "geniuses" at BET set Draya up by tweeting the hashtag "Ask Draya". 99% of the resulting tweets contained mentions of Draya's son, who at age 7, was left alone to fend for himself while Draya worked nights at a strip club.
The case of child abandonment came to light when Draya was arrested for leaving the adolescent unattended while she worked. Draya denied the charges, but a quick Google search will bring up the original police report. So, let me just say, the #AskDraya segment, DID NOT GO WELL. Twitter went in!
The crazy part is, you can search and find a lot of pictures of Draya with her son… lots.
Draya decided to respond to the criticism that she received:
She also told Bow Wow on 106&Park:
"The first thing is, of course, I don't expect people to understand my life because it's my life. You know I'm not a bad parent in any way," said Draya, who thanked those who know where her heart is.
"I'm lucky enough to have fans that actually followed me on the show, and they know the path that I'm trying to choose and set for my family. They followed me from day one, so they know exactly where I'm taking my family and the direction that I want to go," she said.
Here is my thing, I don't have kids, but I know people that do, and I know people that have left their kids at home while they went to the store, work, run errands, etc. That is NOT uncommon. People do that ALL the time. I'm not making excuses for Draya, I'm just being real. Don't act like you have never done that, or know someone has has.
So let this woman be. She never said she was perfect. I don't "condone" stripping, or whatever, however, I will give her credit for trying to be more of a young lad and set a better example for her son, and family. We don't know what she went through growing up, and she is under 30..
So, while Draya was sitting on the couch, Sundy started picking at her once again. Then the arguing began. Sundy was yelling at Draya, and then Sundy mentioned Draya's son Niko. Sundy called Draya's son a "Pansy," which set Draya off!
If you have never heard the word, or know the definition, here it is.
Pansy :  A sissy, fag, fairy, or one that is generally unmanly.
Words related to pansy: pussy wuss sissy wimp bitch gay fag loser faggot homosexual homo pansie queer weak wussy fairy pansies coward asshole emo
According to the Urban Dictionary. (excuse the language)
So, Sundy was talking, yelling and screaming, called her son a "pansy" and other unnecessary words, and told Draya to "Bring your a** around the couch." Draya, however as you can see above, went over the couch and punched Sundy right in her eye.
Now, Sundy has no real beef with Draya. She just likes to pick on the girl. She even said it earlier in the show that she had no real issues with Draya. So, why are you, Sundy, a grown woman starting beef with some almost over 10-20 years younger than you? Are you jealous? What are you mad at? You provoked that girl, and she popped you.
Draya posted the below pic to her Twitter yesterday. #shade
Instagram and Twitter were on FIRE with Memes of Sundy Carter. I cried real tears, because I laughed soooo hard. Check out a few of them:
This one in particular made me scream, I don't know who did this, but I hate you!
SOMEBODY NAMED THIS TWITTER ACCOUNT "SUNDY'S EYE" LOL LOL  LOL #ICANT
Sundy was still talking noise on Twitter on Tuesday night, which led to her and Draya subtweeting each other for dear life. Why would you even still try to threaten people when your eye is an "open and shut case?" When will you learn to keep your mouth shut?
They both hopped on Twitter, and it went from there. Sundy kept telling Draya to "meet her." From the looks of her eye, they already met, and know each other very well..
Draya wasn't here for it though. She has been trying to clean up her image, and make more business moves, and she knows that the ratchetness will only get you so far. After the show aired, she went to Twitter and posted in regards to that.
This is what makes this whole thing crazy… Sundy, has been on Draya since episode 1 about her character, her parenting, her relationships, etc (being messy and not minding her own business), but what makes it even worse, is that she has a past that is not so pretty…. like, having a baby by a married man, (she has a daughter named Kennedy (born in 2007) by married athlete Larry Hughes, and having a criminal record…
Sundy took to her IG to take responsiblty for the prior convictions and blames her criminal past on "stupid youth" and bad mistakes:
Here is what she is referring to, her court cases:
Doesn't it seem very hypocritical to constantly fire shots at Draya for her past mistakes when Sundy's past isn't as squeaky clean? Don't throw stolen rocks in glass houses. Here is the response from a couple of twitter followers:
Jackie Christie, who lives in "Messyville" just had to grab some of the attention (even if it was negative) to make Sundy feel better:
Christie has also admitted to an attempted murder charge and speeding.
So, both Jackie and Sundy are ALWAYS talking about Draya, and how she "came up," and what she was doing prior to "Basketball Wives," but I'm like, NEITHER OF YOU should be talking about anyone, especially when the two of you have jacked up relationships with your own daughters right now, AND YOUR RECORDS AREN'T CLEAN EITHER.
The nerve of y'all to continue to blast this girl when to me, y'all are WORSE than she is. At least Draya is still in her 20's trying to get her life together…. they are old enough to be her Mom acting stupid on national tv…
Brittish Williams on a Cheating Man and Professional Basketball Players #BBWLA
British says,
"He was a whore, of course."
"He might still dib and dab sometimes, but as long as I don't know about it-we good."

"You know I think that all men cheat."

"A man that makes $10.00 and hour cheats, so a man making bou-cou's (I guess beaucoup is not plural enough for Brittish) of money with cheat on you of course. When I find out about it tho…."

Let's just be honest, you aren't going to do anything if you find out about it Brittish. Just keep pulling the lint out of your weave.

"If I don't know its not going to hurt me."

How many languages can you say "Dumb" in? Let's start looking, shall we?

These "women" are so far gone! It amazes me how we have shows like this on the air, but shows like "Tia & Tamera" are pulled off. Well, not really, because people like mess. 95% of the people that watch this show are on Draya, Malaysia, and Brandi's side, but the like the drama of the show altogether.

I think that Draya should make this her last season on Basketball Wives, I  mean, her man does play football. IF she chooses to do another show, it should be based on her and Orlando. I think they have already been offered deals. I like Draya. She's not perfect, but she seems like a sweet girl. I hope she finds genuine friends, cuz Jackie isn't one of them, and continues to mature and grow.
Draya, do you. If you and Orlando continue to flourish, props. Keep these thirsty folks out of your business, and choose your friends wisely.
Rule #1 in relationships:
Keep folks out of your house, especially if you are just laying the foundation.
Rule #2 in relationships:
Misery loves company. If you have a happy home, don't invite Messy Mary's over. (i.e Jackie Christie's of the world)
Rule #3 in relationships:
Watch who you take advice from. If your girlfriends are single, why would you ask them how to keep a man?
I could go on..
Did you catch this episode, and previous episodes of "Basketball Wives?" Thoughts?