Ok… I don't know why everything this woman does, is turned into something else. #Lies Yes I do, but we will save that for another post. What I will say is, Pink (the singer), Brittney Spears, Madonna (who is how old) and other female entertainers have been "scantily clad," in leotards, etc. Yet, they were not called "whores," or disrespecte for their performances… So why is it an issue with Beyonce'?
Apparently, a journalist wasn't feeling all of this, and she said that Beyonce' was a "whore," and Jay is a "poor excuse of a husband."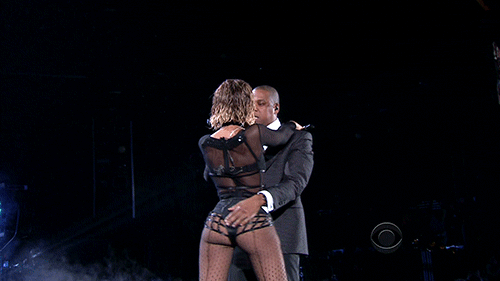 Some/Many felt the performance was too sexually provacative… Others thought it was fantastic, while a small few "weren't impressed." I'm a little biased. This new Beyonce' album is like the soundtrack to my life. I feel like someone knows how my husband makes me feel. Are we in a secret wives club that I don't know about??? *Searching internet*
Now, I said that, but that doesn't mean I would have put on a performance as such. (I'm too scary for all that.) However, we have all seen the "Drunk in Love" video. What did you expect?
Here is a title of an article I found amusing: "Taking it too far: Beyoncé was slammed for her risqué performance at the Grammy Awards on Sunday night by concerned parents who deemed it inappropriate for young children to watch." First of all, why are your kids watching "The Grammys," instead of doing their homework or reading a book?  That's neither here nor there. Beyonce' is Drunk in Love (with her husband), you will deal. Not to mention, her performance made the song #2 on Billboard…
What is more amusing to me, is that, this woman is on stage with her HUSBAND. Not her "baby daddy," "long term boyfriend," etc. They have been married for almost 6 years (time flies). Sometimes in public, I just want to jump all over my husband… I'm too shy for all that though. People were more upset about Beyonce' s "risque" performance rather than Miley's "grind fest" with Robin Thicke…. *sips tea*
Moving on…
Beyonce' has received so heat from her posting the below photos to her Tumblr page:
Apparently, no one else has seen their Mom in her underwear.. #morelies Stop acting like you haven't seen your Momma's panties before. This is normal. I don't see anything wrong with the picture. I know that there will be days where I'm working, being a mother, and trying to get dressed/undressed at the same time. That's apart of life!
Let these people live. Make sure your house is full of love, laughter, and financial freedom the way that others are. Folks are always judging other people and telling them what they are doing "wrong," when they don't even have 6 quarters in their pockets to catch the bus! #imdone
P.S.   Before this post comes to a close, let's get into how Miss/Momma Tina is looking snatched  to Kingdom Come for her 60th Bday. She looks gorgeous.
.
Miss Tina is serving, and I'm all the way here for it.